I follow a gazillion blogs, and most I read when the title sparks my interest. Then there are those I read every single day. Most of the ones I read daily are because you can really tell what the heart of the person writing it is like. Most share my religious beliefs. One of those blogs is La Luce, by Ashley.
First, her blog is really gorgeous. But, I could tell in the very first post I read that she loved the Lord, and wasn't afraid to let other's know exactly how she felt, either.
"And be kind to one another, tenderhearted, forgiving one another, even as God in Christ forgave you." Ephesians 4:13
We learned that verse as kids, at least I did. Its one of the first I remember learning. But how many of us actually live by that?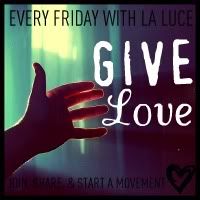 Last Friday, Her post was "GiveLove Fridays". As I started reading it, I though, "Wow. This is such a simple task, yet so few people do this." I started clicking on the links, and finally it dawned on me that this must be her idea! Because I apparently know no strangers, and don't have a shy bone in my body, I sent her an email, because I really wanted to know more about it. Sure enough, GiveLove Fridays is the result of a calling Ashley and her husband felt.
Following is an excerpt from her blog.:
"The basic focus of GiveLove is to go and do something nice and meaningful for someone...it can be anyone or anything, big or small.
Just something that would make someone smile or feel encouraged"
"We can literally change the world we live in."
I wanted to know more about this movement they started; I want to be apart of it, and I want to help spread the word, so...here we are! I asked her a few questions, and today, I wanted to share them all with you!
What is GiveLove?
GiveLove365 is on a mission to fuel the concept of giving to a whole new level and make it a lifestyle. Remember that movie "Pay it Forward?" It's kinda like that...but on a high amounts of steroids that never goes away. How exciting is that? We can literally change the world we live in.
How does it work?
The entire overall concept is simply based on direct connection with people and taking on smaller parts of bigger issues. The core is Give, Connect & Carryout. It's free and spirit led, while still providing resources necessary to help anyone, help others.
The Give part is what everyone can get involved in. It's simply doing something thoughtful for someone. It can be your time, your efforts, a gift, help pay for something for someone, or anything else that would encourage. The Connect part is if you're able to get to know them and see if the Spirit is leading you in any way to be a blessing to that person even more. The Carryout part is practical programs, resources, and suggestions that can truly make a difference in someone's life. Something that would fulfill a need that if you were them, you would be praying for.
We know that not every situation goes to the Carryout level, but if it did, we wanted to inform people as much as possible, so they don't feel discouraged by not knowing what to do, or how to help
How did you know God was calling you to do this?
We knew because the seed came directly from God speaking to my husband. After Kevin was blessed with a new job, the Lord asked him what he would do with the extra income. The first thing that came to Kevin's spirit was to take someone that was without a home and hungry, out to eat. The vision He continued to pour into our spirits that same week could only come from heaven, so we knew.
What is your vision for GiveLove? Where do you hope to be with this in the next year/5years?
The vision is for GiveLove is to fulfill the initial vision God placed in our spirits. The bigger vision has many branches and areas of need, that I'm sure will be ever evolving. Each branch would have its own Carryout section. At this time GiveLove & Provide (loving and helping people who are currently without a home) is the blueprint of how each branch would be. We would love for others in established ministries to partner up with GiveLove so we can direct people to your programs. This helps fulfill the call of their ministries and links up others to an amazing resource.
I pray in 5 years that the love of God has just completely saturated the world and it will be normal for people to look for opportunities to give and love someone. That co-laboring with God on how He wants you to pour into someone else's life will be what everyone does everyday. I pray that in 5 years each branch is complete and fulfilling its purpose.
Do you see yourselves offering this as a program to churches in the future?
If God allowed the opportunity for that to happen then that would be amazing. The more involved, the better!
This gives a whole new meaning to "being the hands and feet of Christ" doesn't it?
It does, we are alive to BE the love of God and show the love of God to others. I enjoy that even if people who aren't believers get involved they will have an experience with what allowing His spirit to love through them feels like, hopefully plant a seed in their soul too.
How can others be involved?
Every Friday on the La Luce blog, I have a GiveLove Spark. A simple idea of something nice to do is posted and everyone is welcome to do that or anything else they feel led to do, and then come back and share their experience and ideas on a link up party that following Monday.

It truly is a concept that can be taken anywhere and by anyone, so if someone wants to be involved, just take on GiveLove as your own and start sharing and doing.
What is the best way for us to get the word out to others?
The best way is for everyone to share it and what they are doing. A lot of the beautiful and God loving women in the blogging world have a voice…people care about what they have to say. It would be amazing to allow those platforms to be used to share something that is all about God loving through us. The more people see it on blogs, twitter, and facebook, the more encouraged they will be to do the same and get involved too. Let's start a movement of giving and making someone's day a little brighter and full of love. It why we're here, to demonstrate the LOVE of God.
Seriously, now. This concept is just awesome. You don't have to be rich to be kind to someone (though if God is calling you to financially help some one DO IT!) You don't have to be famous, or well-spoken.
Actions speak louder than words, and the best way to show the Love of Christ to those around us is to live it. No one wants to be preached at, but everyone wants to know they are loved and important.
Quit talking at people about Jesus, and start showing them Jesus.
Remember, Moses wasn't comfortable leading the Israelites out of Egypt, but God thought he was perfect. So step out of your comfort zone today, and be kind to someone who needs it the most. Share GiveLove Fridays on your blog, too, because we can change the world, just by being obedient to the Lord!
Leave a comment about what you think about GiveLove Fridays. Then, click over to Ashley's website and leave her a comment. Then, get off the computer, and do something kind for someone!!