Good Thursday morning, and Happy Veteran's Day! I want to take this moment to tell every Veteran
THANK YOU!
I know more Veterans than I can count...from some good friends, to family members, my ex-husband to the husbands of my closest friends. Unless we live that life, we can never truly understand the sacrifices of these men, women, and their families. Thank you, from the bottom of our hearts!!!
My little sister is coming today to help me bake bread and cinnamon rolls today, and that got me to thinking about all the great uses we have for bread.
I try to make most of the bread my family eats, but I do buy bread as well. You see, the Barb Wire Man is probably one of the pickiest people I know, and really the only person I know who
does not like
homemade bread! Strange, huh!? So, I go ahead and buy bread for the sandwiches he takes to work each day. That usually amounts to about 1 loaf a week at $1.25 (I buy the cheapest loaf I can find! If you live close to a bread store, a loaf can often be purchased for 99 cents.) If, however, I bought all the bread my family and daycare kids ate, I would be buying no less than 4 loaves a week. The kids love toast, sandwiches, French Toast, and I like to eat bread and butter as a snack with my tea. That is about $20 a month, and $240 a year.
Instead, I make my own homemade bread, and no, I do not use a bread machine. I am a firm believer that everyone should know how to make things the old-fashioned way. Go ahead and use a bread machine, but at least know how to make bread without one!
Now, to really justify turning the oven on, and heating up the house, I make about 8 loaves at one time, and try to do all my baking on one day. (It makes for a pretty long day!) I also reserve a bit of the dough to make a homemade pizza dough!
The recipe I use is an old Amish recipe. (I will include it at the end of this post!) If you want some good eats, friends, find an Amish or Mennonite cookbook.....most recipes are super simple, very thrifty and absolutely delicious!
Anyhow, before I get too far off track, I will explain my process to you. I make the bread dough early in the morning, because it needs plenty of time to rise. After it has risen once, separate into loaves, saving a good handful for pizza dough! Once you reach this point, you can do one of two things....put the dough into pans to rise again,
or
shape into loaves and freeze the dough. (I don't have much freezer space, so I don't do this often.) When you are ready for fresh bread, put the frozen loaf into a pan, sit on the counter, and it will rise as it defrosts.
Part of being frugal is thinking outside the box. Bread is a great filler, and very versatile. Here are a few hints for using bread.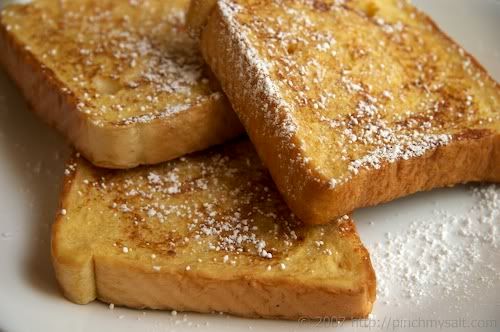 1.) Stale bread makes the best French Toast, because it absorbs the milk/egg batter better.
2.) Make your own bread crumbs. Cube stale bread, then bake in a 350 degree oven until completely dry. Put into a large plastic sack, then beat the hell out of it until it is crumbs! (This is also a great stress reliever, or a good project to help kids get the wiggles out!)
3.) Use bread torn into small pieces instead of crackers in your meatloaf. This helps cut down on the amount of meat you need, and helps the meatloaf hold together quite nicely.
4.) Give some to the kids to feed to the birds. This will keep them occupied for awhile!
5.) Make your own croutons! Butter the bread and season to your liking. Cube, and bake until crispy.
6.) Bread Pancakes. I stumbled across this recipe (located after the bread recipe) while looking through my Granny's old cookbooks. I have never tried it, so can't completely vouch for it, but see no reason why it wouldn't be good!
7.) Bread pudding!! One of my most favorite things in the world! I wish I could share my Granny's recipe with you, but I can't. She doesn't use recipes, so I was taught by watching her and hearing "You put about this much milk in.....then about this much cinnamon,.... then about this many eggs...nope, I think we need another egg....its done when it looks like this..... (these are always the best recipes!)
8.) When making rice, sometimes all the water is not absorbed. Put in a slice of bread and replace lid. This will dry the rice and make it nice and fluffy.
9.) So you burned your rice? I do it all the time. ALL THE TIME. Put a piece of bread in and allow to sit for awhile. The burned taste will all but disappear.
10.) Use a bread slice to help pick up tiny shards of glass from a dropped glass. This goes without saying, but please throw this slice away! (I would like to think no one would try this, but we do have to warn people that coffee is hot, and not to stick their fingers in blenders these days.)
What is your favorite use for bread? I have so many more, but I will stick with these 10 ideas. I would love to hear what you use your bread for! One side note here. This homemade bread, once baked, does not last as long as store-bought, because there are no preservatives!
I hope everyone has a very blessed day today. This is the day the Lord has made, so rejoice!
Amish Bread
2 quarter ounce packages of active dry yeast 1/2 C Sugar
1 TBSP Sugar 1 C. Boiling water
1 C. warm water 2 1/2 C. warm water
1/4 C shortening 10 C or more of flour
2 TBSP salt
Dissolve yeast and 1 Tbsp. sugar in warm water (careful not too hot!), and set aside.
In large mixing bowl, combine shortening, salt, sugar, and boiling water. Mix together until shortening is dissolved, then add 2 1/2 C of additional warm water. Now add the yeast mixture and blend thoroughly.
Next, add 5 C. flour, gradually mixing and adding more flou until dough can no longer be mixed. Knead the remaining dough for about 20 minutes to add any remaining flour (or extra flour if needed) until the dough becomes soft and is no longer sticky. Allow to rise (in a very large bowl) for 2 hours.
Punch down dough, and separate into 4 large loaves or 8 small loaves, and place in bread pans. Cover with a heavy cloth and let rise for an additional 2 hours.
Bake at 350 degrees for 30 minutes, or until it makes a hollow noise when tapped.
Bread Pancakes
1 cup stale bread crumbs
1/2 cup water
3/4 cup milk
1 cup flour
3 tsp baking powder
1/2 tsp salt
2 eggs beaten
4 Tablespoons melted margarine or oil.
Soak bread crumbs in water 10 minutes, add milk. Sift together flour, baking powder, and salt, add to bread mixture, add beaten eggs and margarine and mix well. Bake on lightly greased hot griddle. It makes about 12 cakes.